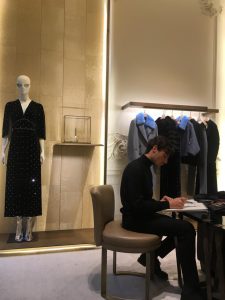 Aldo Sacchetti è un illustratore di moda. Attualmente collabora con luxury brand del settore come Fendi, Bulgari, Dior e Givenchy. Ha collaborato con Sofia Gnoli per la pubblicazione del suo libro "L'alfabeto della moda" curandone le illustrazioni. Il libro è stato pubblicato nel 2019 presso la casa editrice Carocci Editore. I suoi lavori sono pubblicati in diversi cataloghi d'arte e in molteplici magazine di moda. Prende parte a numerose mostre d'arte dove espone i suoi lavori sia nella sua città d'origine, che in altre città d'Italia.
Aldo Sacchetti is a fashion Illustrator. Currently he is developing different  collaboration with important luxury brands such as Fendi, Bulgari, Dior and recently also Givenchy. In 2018 he began a collaboration with Sofia Gnoli for a publication of her book "L'alfabeto della moda", developing the drawings. The book was published in 2019 by Carocci Edition. His jobs are published in different art catalogues and other fashion magazines. He often takes part in some.
Art events where his works are showed in his Town and also in other Italian Cities.